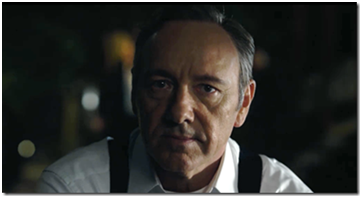 They say that screenwriting is like problem solving. A good scene is the result of a series of problems solved by the writer.
An example? Here is how Beau Willimon explains the genesis of the scene where, in the pilot episode of House of Cards, we make the acquaintance of Frank Underwood/Kevin Spacey at his street door.
Guest at The Writers' Room on Sundance TV, chatting with the host of the program Jim Rush, Willimon says that the idea for the scene came out of a problem. A few draft of the episode's script had already been written, when Willimon realized that "a movie star entrance" was still needed for Kevin Spacey.
So, problem, solution: "What's more a movie star entrance than two double doors opening and someone descending stairs?".
But then, a new problem: "Now I need a reason for the two double doors open up."
And new solutions: "What if he [i.e. Underwood] hears something outside? A big loud noise. Car crash… Hits a dog…"
But, again, another problem: "Now he is outside… What does he do?". And another solution (the Solution): "Well, confronted with the dog that is dying in front of him, I thought: there is a great opportunity here… He has a choice: "Do I let this dog suffer? Do I do something about it?". And ultimately you arrive at: "I do the unpleasant thing, the necessary thing…". It's an act of ruthless mercy".
Willimon concludes his explanation by summarizing the functions the scene has successfully accomplished: "In the first thirty seconds you see a guy who is willing to kill, you see a guy who is ruthlessly pragmatic, and you establish the direct address, in a way that is unforgettable. Boom! Now we have a real opening, and going into the New Year's Eve party [i.e. the following scene, where Frank introduces us to his world] with that as your context, changes everything."
So, it's true: screenwriting is like problem solving.
Which, like it is shown by Willimon's explanation, could also be said like this: ideas never come alone.