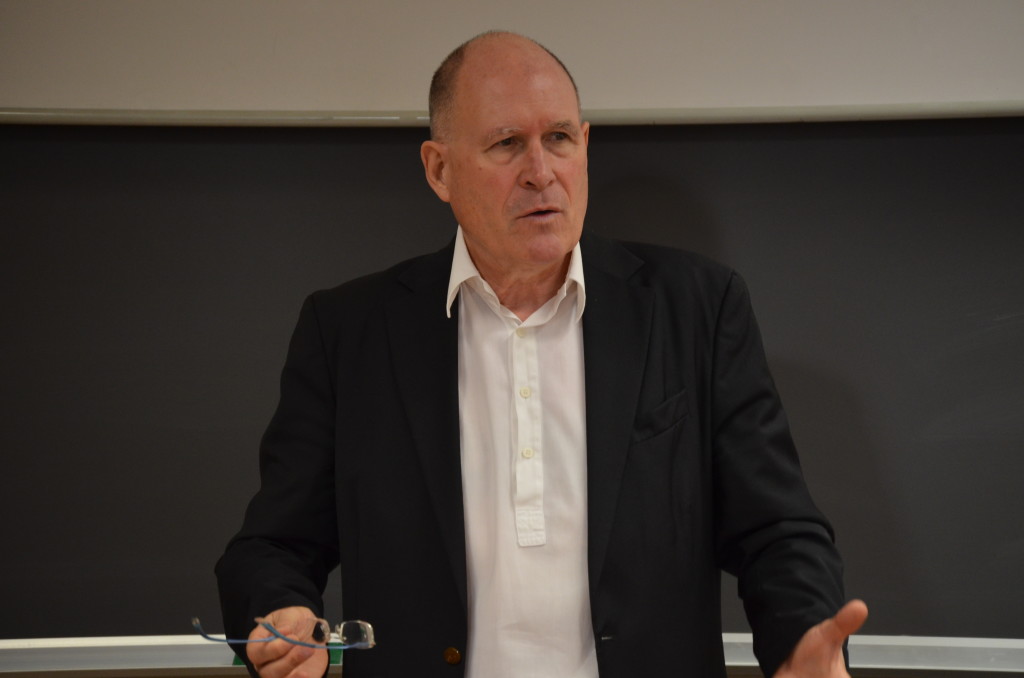 Shadowlands, Gladiator, the adaptation of Les Misérables, are few of Nicholson's scripts. William Nicholson is an insanely talented screenwriter, playwright and novelist… As if this wasn't enough, he is also a great lecturer, witty and straight to the point. He lights up synapses in the audience's minds.
He knows his craft and last November he shared it with the students of Università Cattolica (find below the links to the audio of Nicholson's lesson to the students of MISP, and the one to his open lecture to the students of our University).
He addressed many diverse topics: from how to avoid the writer's block, to the right moment for asking for a feedback on your project during the writing process, to the mental state which is needed to be a screenwriter in a business which is always collaborative.
And, yes… also analyses of scripts, scenes and characters.
Talking about scenes, Nicholson used one from Gladiator as an example. He explained how he rewrote the last, tragic dialogue between evil Commodus and his father, the sage emperor Marcus Aurelius.
Let's have a look at Nicholson's changes to the scene.
In a previous draft – the second one, which was penned by John Logan – Marcus lies in bed unconscious and deadly ill. At his bedside, Commodus reproaches Marcus for his lack of fatherly love:


We don't see it right away, but what we will soon come to realize is that Commodus has killed his father by the end of his rant.
The scene we know from the movie is quite different. Nicholson (and Ridley Scott) lets us witness the murder. In the climax, Marcus – here still awake and on duty – tells his son that he prefers Maximus to him as the next Rome's commander in chief and that Commodus will never be emperor.
In this version, not only action and drama are both raised, but also our understanding of Commodus' feelings is greatly deepened. In the deadly embrace where a tearing Commodus suffocates Marcus, we now can see what a sorrowful short circuit between love and hatred there is in the heart of the character. And what a powerful performance from Joaquin Phoenix.
Besides, previously in the scene, Nicholson has Commodus argue in favor of his own candidature. He tells his father all the chief virtues he possesses and how they will make him a great Emperor (wisdom, justice, fortitude and temperance):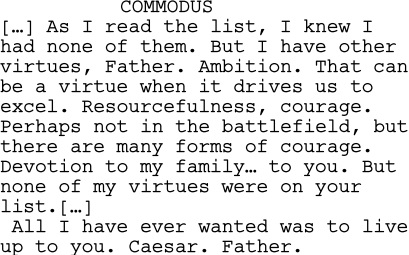 We all remember the powerful, grieved line of the Emperor's answer:


In this line of dialogue, the audience experiences how the son is tortured by his father's reasonings as well as the awareness of his own inadequacy. We realize that Commodus' flaws are not just his own fault.
Without this scene, the antagonism between Commodus and Maximus throughout the movie would have remained superficial. A less skilled writer would have had an antagonist we cannot empathize with. But a great protagonist needs an equally profound and complex enemy. It is only then that their struggle can really reach its emotional core and resonate with an audience.
This is how Nicholson explains it. After stating that he could have written the Commodus' terrible action out of a fit of rage but he preferred not to, Nicholson continues:
"It's not dramatic to have an enormous, evil monster jump at you, and you have to kill the evil monster. Because the evil monster has no reality, has no personality – you have no engagement to the evil monster… What you need for drama is engagement toward the characters. You have to care about the characters. […] Excitement comes from emotional connection, and emotional connection comes from character. And knowing character, knowing people, is the heart of the writer's endeavor. What we do as writers is hope to understand how other people work. It's the great joy of writing. It's the great task of writing."
LISTEN
William Nicholson's lesson to the students of MISP (October 29, 2014):
Open lecture at Università Cattolica del Sacro Cuore (October 29, 2014):