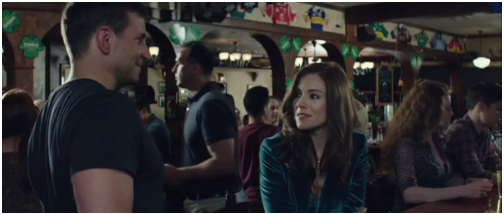 How do you improve a scene?
Here is an example from American Sniper. The meet cute between navy SEAL Chris Kyle (Bradley Cooper) and his future wife Taya (Sienna Miller) in the bar where soldiers gather while off duty.
From first to second draft, the scene stays pretty much the same.
Chris approaches Taya who lets him open up about himself. She is curious about the cotton the man has in his ears (Chris had an accident during a diving exercise). He doesn't say he is a SEAL, he makes a joke instead: "I polish dolphins. They need to be polished when they are in captivity. If you don't, their skin will disintegrate". Yet Taya has understood he is military and wants to know which branch of the army he belongs to. Chris challenges her: one shot of tequila, one answer.
They start drinking. Taya discovers that Kyle is as SEAL. Chris finds out that Taya doesn't like SEALs because one of them broke her sister's heart ("You are a bunch of arrogant, self centered pricks who thinks you can lie and do whatever the fuck you want"). He answers back that he is a SEAL because he is a patriot ("I'd lay down my life for my country").
By the end of it, they are both outside the bar with Taya puking, because she drank too much. As Chris helps her out, holding her hair, she warns him: "I'm not going home with you, so don't even think about it".
The scene stays the same, except for some little but effective changes made by screenwriter Jason Hall.
More emphasis on the fact that Chris is different
In the second draft, when Chris notices Taya in the bar, she is facing the advances of an annoying, not so handsome Navy guy who was absent in the previous draft. By the time Taya dismisses the guy, pointing out that he is married ("I watched you take your ring off. Don't be a scumbag. Go home"), Chris has got near them:

When Taya starts dismissing Chris, thinking he's the usual navy player, his answer is witty and clear:

More emphasis on Taya's flaw and on Chris' insight
At the beginning of the scene, Taya has been (beautifully) presented as follows:

So, Taya has a problem with men: she never had their love and respect. But she does want love and respect, and she is looking for those things, only, in the wrong way, like Chris wittily imply, commenting the advances made by the short navy:

Besides, when, afterwards, Taya overreacts to the joke about dolphins, Kyle appears again to be the one who can understand her:

An additional twist, with higher stakes and more foreshadowing
In this second draft, while telling Chris the bad opinion she has of SEALs, Taya makes it clear that "I'd never date a SEAL". So, when – in this draft – Chris acts as if he is going away and says goodbye, Taya is forced to take back her words:
The viewer understands that something important has happened and the future of the two characters is at stake.
So, the second draft succeeds in improving a scene which was already good.
Comparing two different versions of a script is always a great screenwriting lesson.