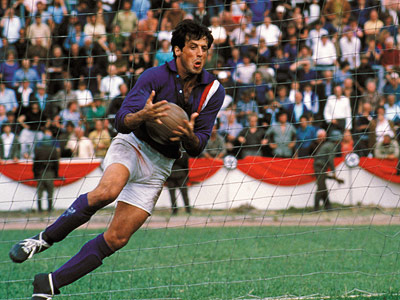 Rocky, The Fighter, Escape to Victory, Remember the Titans, Any Given Sunday, Rush, and…yes, if you want, also Whiplash. All sport movies. All beautiful films. I like this genre.
What I like most about it is how screenwriters manage to create what I call the "technical move." By which I refer to the narrative situation that brings the audience inside the spirit and the skills specific to a particular sport.
The technical move is a twist in the game rooted in the discipline the story is about. It could be a sudden change in the strategy of the team, or a feat of the athlete. It is often the fruit of a focused training and usually follows a difficult choice by the character, and thus is thematically relevant.
As the name suggests, the technical move makes you feel that the author knows the game — the rules, methods, and values that inspire it. It makes you feel completely engaged because the author has succeeded in making you share his knowledge of the discipline: you understand what is difficult about it; what is usual and what is not; and the different approaches and ways to play.
Sometimes the discipline helps the writer. The move doesn't need many explanations. Think of Rocky Balboa, who decides he will take Apollo's blows till the end of the fight.
Sometimes the screenwriter endows a simple move with technical nuances: think of Hatch, who puts to good use his skills as an American football receiver when he acts as a goalkeeper during Escape to Victory's final match.
In other cases, things are more complicated because the discipline itself is more complicated. Think of the difference between "playing the board" (calculating in advance the possible sequences of moves by the opponent) and "playing the man" (putting pressure on the opponent, using silly tricks to goad him into a mistake) in Searching for Bobby Fischer, a movie about chess.
The fact is, when a story lacks a technical move, you notice it. The story is weaker. For example, in Borg McEnroe, the effort of the two players to control their nerves (the role of emotions being the theme of the story) is never revealed through a specific, relevant twist — through an iconic action — during the memorable 1980 Wimbledon final. A pity.
I hope I have convinced you. Though inclined to be formulaic, sports movies are worthy of attention. So, if you'd like to go deeper into the genre, here are two useful links: 10 Screenplay Tips From The Greatest Sports Movie Ever – HOOSIERS! and How To Write Underdog Sports Movies In Ten Easy Steps.