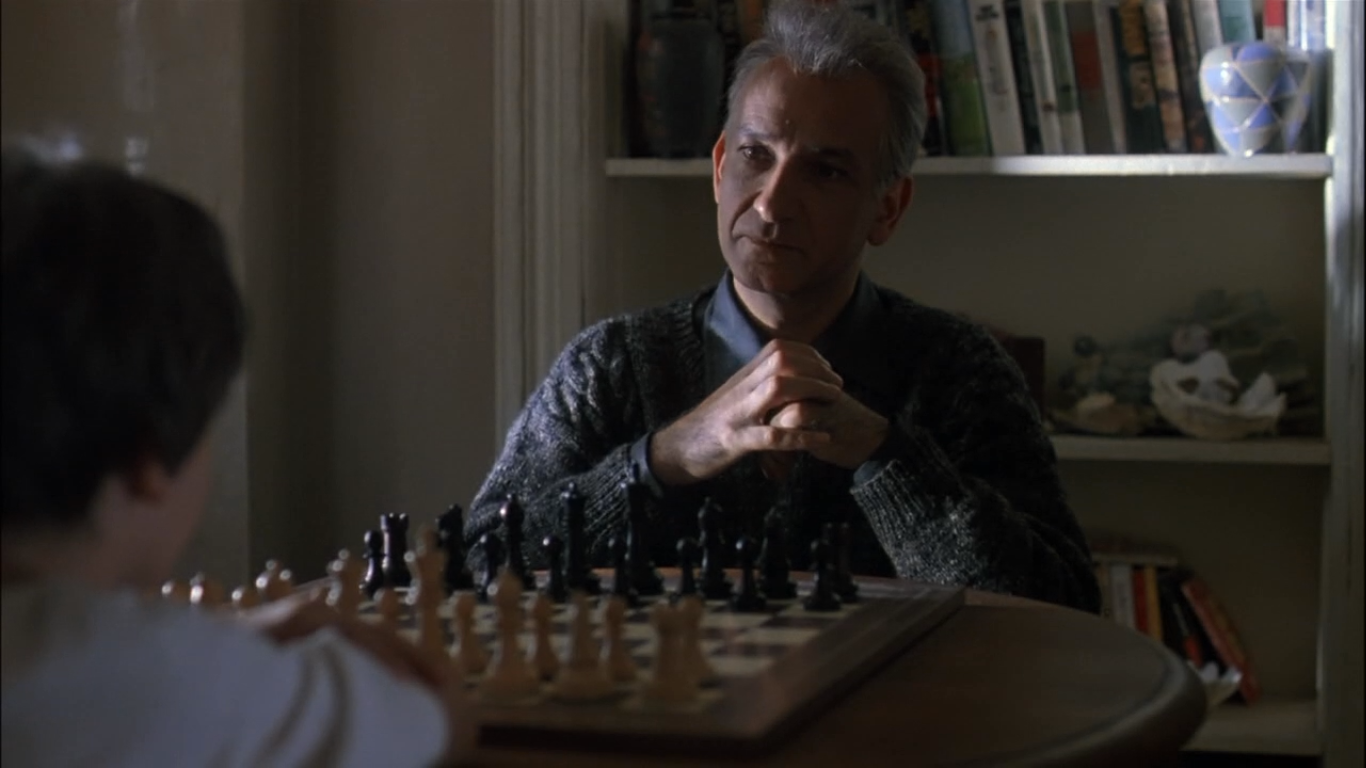 Sometimes one beat makes all the difference. There are scenes in which the smallest unit of action or dialogue changes everything. Take out the particular brushstroke and the picture is no longer the same.
This came to mind while watching Searching for Bobby Fischer. Although my point concerns the final scene of Act II, some backstory will be helpful.
[Spoiler Alert]
After a long period of training, instructor Pandolfini (Ben Kingsley) wants his pupil, a little chess prodigy named Joshua (Max Pomeranc), to take a further, decisive step towards becoming a champion. The boy should understand that a new and different attitude towards his same-age opponents must be learned: a champion has contempt for his opponents. But the boy disagrees. He plays chess because he likes it. It's a game. For Pandolfini, meanwhile, it is not. He believes chess is an art.
Things start to go wrong between the two. Joshua becomes less docile to his teacher's instructions. Pandolfini loses his characteristic self-control and humiliates the boy, revealing that the certificate he'd made Joshua so eager to earn was just a lie: a trick to motivate him. Fortunately, Joshua's mother (Joan Allen) overhears everything from outside her son's bedroom. She enters the room and throws the man out of the house. From now on, Joshua will go back to a more normal and less chess-obsessed life: he will play again with his friends, he will go fishing with his father…
Now, how do you keep Pandolfini's character in the story after he has humiliated and disoriented the boy? How do you make him part of Act III, with Joshua at the championships? Because, as a viewer, you want him there next to his pupil. Despite everything, you like the instructor. You still hope that, deep down, he is not so radical, so insensible. And you want him at the championships with dignity, really on the right side, together with Joshua's parents, to encourage the young player.
This is screenwriter Steven Zaillian's solution (he also directed the film).
Pandolfini reaches Joshua's father, a journalist named Fred Waitzkin (Joe Mantegna), at his workplace. The instructor tells him to forbid the boy from going to the championships. Joshua, Pandolfini says, has not being training enough to beat his main opponent. And even though the boy still cares about chess and has developed a deep desire to be a champion, to win… he nevertheless will lose and it will be a devastating shock.



An intense glance between the two characters. Then Pandolfini declines the invitation to accompany the family to the tournament. "I can't," he says.
"You have no idea what a fall like this can do." "I think I do…" This is the beat. This is the brushstroke. We realize that the father, earlier in his life, most likely experienced a similar failure because he cared too much about winning. Moreover, we realize that the father is referring also and mainly to Pandolfini. He has understood that the instructor's approach to chess – and his excesses – have something to do with a defeat he suffered in his own career as player, and with the resulting disillusion he felt when discovering he was not the champion he dreamed of becoming. That's why Pandolfini has always avoided accompanying Joshua to tournaments. That's why he refuses the invitation now: he fears his own ghost.
Thus, when in Act III we meet Pandolfini at the tournament, apologizing to Joshua and encouraging him, we see the character as someone who is facing an inner battle in being there. Not just someone who has changed his mind after a conversation, speaking in the abstract with a man of different ideas (that would've been too easy and superficial a twist). And not someone who is there because he loves the boy while still believing in his own erroneous ideas about chess (we wouldn't sufficiently appreciate his presence).
Instead, recalling the beat from the dialogue at the newspaper, we know Pandolfini deserves his place as a mentor standing beside the protagonist.