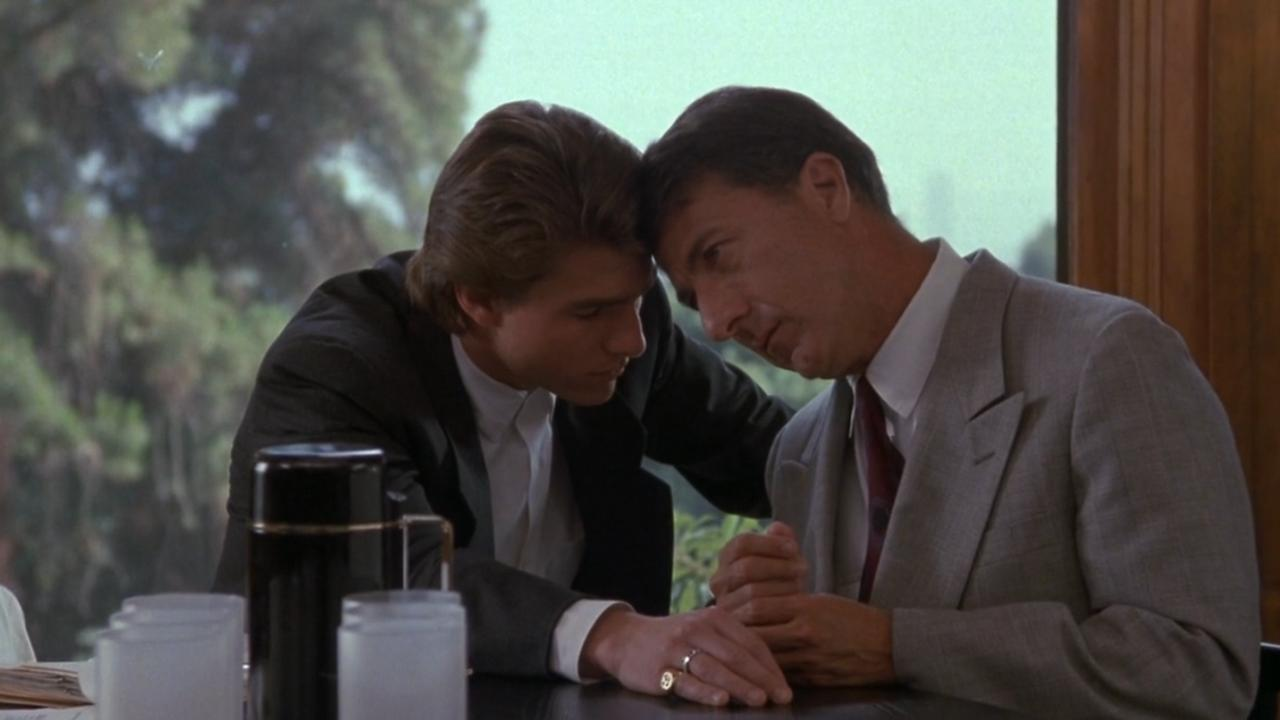 Summer, 1987. Screenwriter Ronald Bass, Steven Spielberg, Dustin Hoffman, and Tom Cruise. They're seaside, in Spielberg's house, Broad Beach Road, developing the script for Rain Man.
Bass recalls the gathering in a must-listen-to episode of The Road to Cinema Podcast (an interview with Bass, about his work and career, in which he talks about how he wrote films such as My Best Friend's Wedding and Sleeping with the Enemy).
Great stuff. To me, a particularly insightful moment is when Bass recalls how he explained to Cruise what he intended the deep theme of the movie to be.
At that time, "there weren't a bunch of spectrum films. There weren't a thousand films about autism." After discussing spectrum disorders at length, Cruise cut to the chase and asked Bass about his character: "What have you got for me? What have you got for Charlie Babbit?"
Bass approaches the matter in a roundabout way:
"Well. I tell this thing to people I work with. Which is a cliché: that women are much better than men. They are more interested in life and in film than men. So I always write for a female lead when I can. […] The reason for it is that generally men are result-driven. They want to sleep with the girl, win the money, close the deal, win the game. They want to win. And they don't want to know who they really are if it's going to screw them up. They don't want to be scared, they don't want to be embarrassed, they don't want to be ashamed, they don't want to be guilty, they don't want to be insecure…"
"Women… Almost every woman I ever got to know, they have to know who they are. Their process is, 'Who am I?' And it will totally screw them up, and they will break up with the guy they love, and they will fail, but they have to know what they are really feeling. So they have an inner life, they are in touch with their inner life.
And therefore, Tom, that's going to be your journey…"
At which point Cruise can't restrain himself from a joke: "I've got to become a girl?"
Bass' answer powerfully highlights the importance of finding the right character arc in order to avoid cliché. "'You have to find your inner life,'" he told Cruise. "'Your character has to understand that it isn't just that he's selfish: it isn't just that he's going to be nicer, it isn't just that he doesn't love his brother. That's the obvious stuff that everybody says: "That's the journey of the movie." No! The journey of the movie is finding yourself, not finding your brother. That's being a nicer guy! Turns out you will be a nicer guy, because your character is a nice guy. He didn't have to be, but he is. Find yourself, whatever the cost. That's what we are doing here.' And he [Cruise] loved it, and he took it to heart."
In fact, to quote the set-up/payoff key words pronounced by Raymond/Hoffman, we could say the main film arc is from "Charlie Babbit" to "C-h-a-r-l-i-e." To the real, intimate essence of the protagonist, finally discovered by him.
Bass adds that, because of this, Cruise's performance in Rain Man was one of his best.