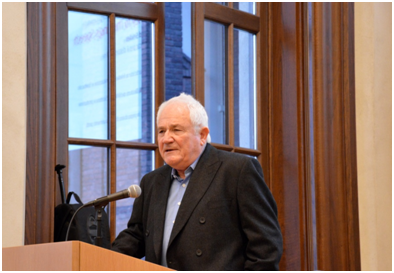 You want to know why writing is like fly fishing? Listen to David Seidler's answer, the Oscar-winning screenwriter of The King's Speech, in a suggestive episode of Creative Spark, a series of short documentaries produced by The Academy of Motion Picture Arts & Sciences.
The video dedicated to him is an occasion to remember that Seidler is a good friend of MISP. Two years ago he taught a few classes in Milan. He also pronounced a wonderful lectio magistralis for the students of the UCSC, which I highly recommend (the link at the end of this post).
The title of the lecture is "The Long Journey to The King's Speech". In fact, Seidler tells the fascinating story of his fortunate screenplay, with the many twists, surprises, obstacles and victories it took to accomplish it – starting from some key biographical elements in Seidler's early childhood (he stuttered, like Bertie) till the numerous rewritings (56 drafts!) asked by director Tom Hooper.
The "journey" is also a metaphor for the creative process, which is a fil rouge throughout the lecture. In the beginning there was the stage play, then the movie, then the many new staging of the original play and the adaptations to stage from the movie. It was a seemingly never ending creative journey and Seidler does not shy away from telling us a few interesting back stage anecdotes, like the changes made on the original play to make it suitable for the big screen.
What I like the most is Seidler's thought about one's own life as a source of inspiration for stories. He says he could not have written a story about himself – about his stutter – as he felt that was interesting to no one. The story needed bigger stakes. This is how the idea of George VI, a stuttering king with a crucial speech to give, came to life…
We could conclude that stakes are for a screenwriter what the rod is for the fly fisherman. Without them you can't pull ideas out of the "river" of your life (your unconscious, your subconscious, etc.…) to the shore of a good screenplay.